Xcalibra version 1.13 has been released.
As we have announced previously, starting today, customers without KYC will no longer be able to deposit or trade. You will still be able to withdraw funds the same as usual. If you mistakenly deposit new funds to the old address and they don't appear in the interface, please contact support and we will work with you to resolve the issue.
We have also tweaked our minimal withdrawal limit to be $20, converted to target currency based on exchange rate at the time of submission.
On the user interface side, the biggest improvement in this release is a new session expiration flow. We are now much better at tracking when you step away from keyboard, and show a warning before you are logged out due to inactivity.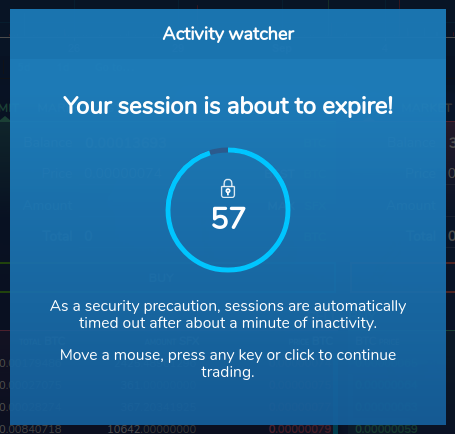 In addition, we made the following smaller tweaks and fixes we'd like to highlight:
CSV report download no longer crashes if you click the button again
We no longer disable order widget for anonymous users
Users without confirmed email can no longer use Trollbox
We have optimized chart data performance. Also, chart data now works correctly for grouping periods larger than a month.